State of the scene of refugees in France and Europe
12/04/2018
We fall far short of the measures that have been taken in countries such as Germany, Italy, the Netherlands and Sweden.
It was with these words that the intervention of the Minister of the Interior, Gérard Collomb, ended at the National Assembly on Wednesday, February 21. This is probably a way to respond in anticipation to criticism of the harshness of his bill "for controlled immigration and an effective right of asylum." Or perhaps to clear himself, quite simply, in the face of accusations that could be made, for example, by a Yann Moix, for whom "the government humiliates France" – it took, for the columnist and writer to be outraged, to wait for the police to use tear gas in Calais to prevent people from drinking or sleeping.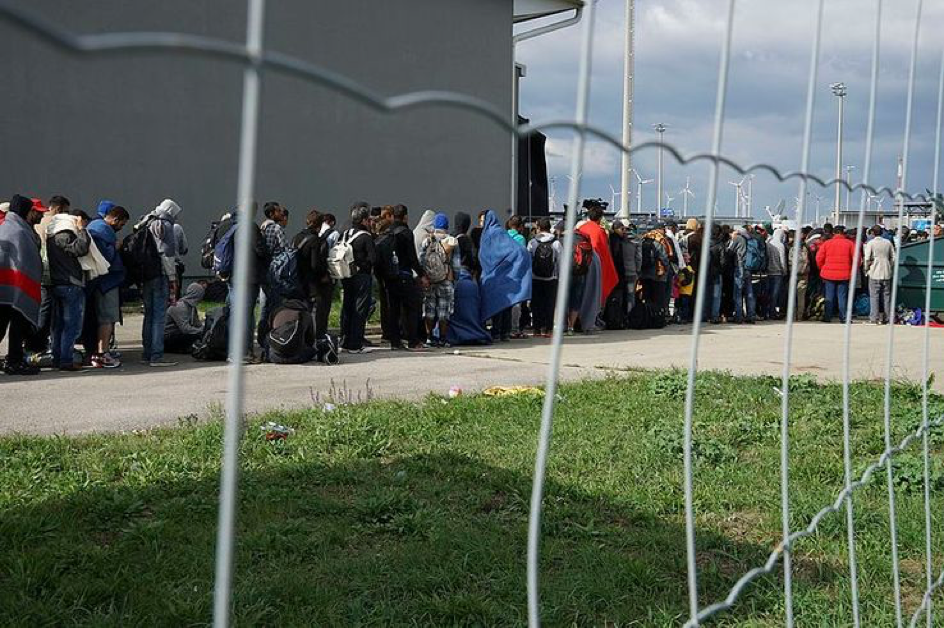 It must be said that the issue of refugees, however complex, is a hot flash. In this regard, no one could dispute that it weighed heavily on the German elections and on the formation of a new government in Berlin. The migration of people seeking security beyond their nearby region and their attendant suffering is not only concerned with our continent but it is in Europe, because of the values that are supposed to unite states, that political and moral problems are most acute: identity nationalism in the so-called illiberal democracies in the East (Czech Republic, Hungary), questioning the tradition of hospitality in Scandinavia Etc.
While migration challenges remain numerous – increasing the number of refugees, diversifying flows, material and moral difficulties in sorting and distributing applications – what policies are in place for states to deal with them?
A look back at European and national immigration and asylum policies.
In this heated debate, the terms used must be precise and explicit. The word "refugee" should therefore be defined from the outset. According to the 1951 Geneva Convention, a refugee is "a person who is outside the country of his nationality or in which he or she has his usual residence; who has a well-founded fear of persecution because of his community affiliation, religion, nationality, membership of a certain social group or political opinion, and who cannot or will not claim the protection of that country or return because of that fear."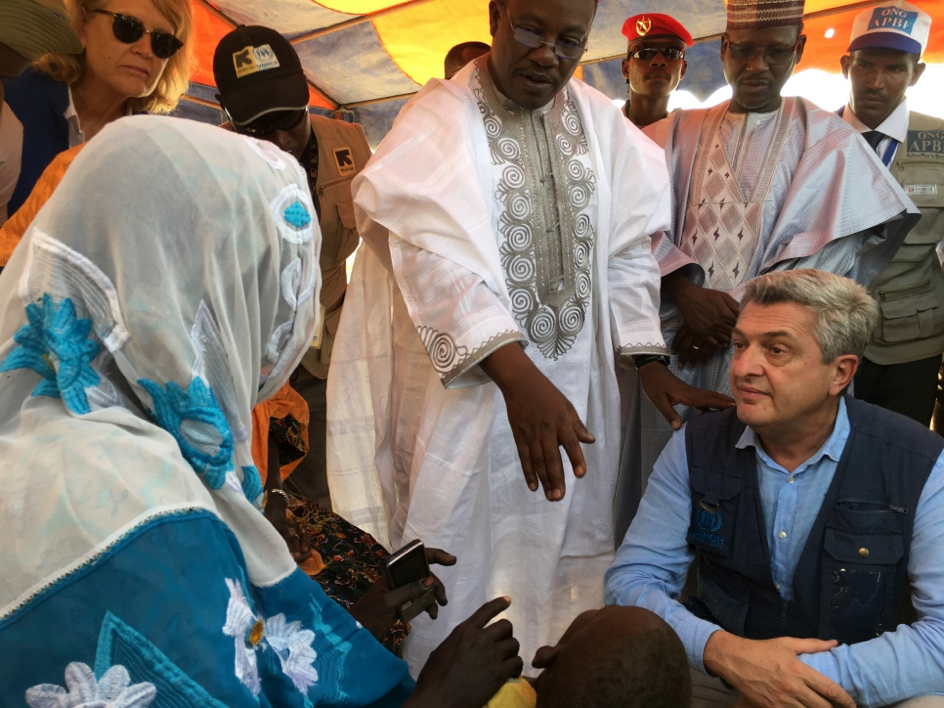 UNHCR chief Filippo Grandi during a meeting with refugees. 
Emergency situation in Europe
The conflicts ravaging the Middle East, especially Syria, Iraq and Afghanistan, have thrown hundreds of thousands of people (men, women and children) into the streets of exile. While border countries, such as Lebanon, provide much of the reception effort, EU Member States are also being asked in the name of the right to asylum. A right that is a matter of national sovereignty and not of the common policy. So, of course, there is a European-wide regulatory system decided in Dublin in the 1990s and strengthened in 2003 and 2013, forcing people who have been denied asylum to leave the country and join the first country through which they entered the Schengen area, but there is no doubt that it is now outdated. It is true that in 2015, the European Commission, under the initiative of Jean-Claude Juncker, tried to distribute 120,000 refugees in reception centres in Greece and Italy, depending, among other things, on the size of the country's population and GDP. However, three years later, it is clear that this is a failure. According to a Commission report on the subject, only 27,695 refugees have been relocated, or only 28% of the total targets. The best students are, unsurprisingly, Sweden, Finland, Ireland, Latvia and Lithuania. They have reached more than 50% of their commitments. In contrast, Poland, the Czech Republic, Slovakia, Austria, Hungary, Bulgaria and Croatia did not meet 10% of their commitments.
It is in this general context that Brussels intends to force Poland, Hungary and the Czech Republic to take in asylum seekers in solidarity with the other Member States. This decision perhaps reflects a more general malaise with these countries, whose democracies are now described as illiberal. It must be said that these Visegrad countries, viscerally opposed to this policy of solidarity, had already tried to block the movement: Bratislava and Budapest challenged in the European Court of Justice the means by which this decision was taken – qualified majority vote -; in Hungary, again, Viktor Orban submitted to the referendum the European quota policy – without success, since, despite a score of 98% against migration quotas, the quorum of 50% participation needed for its validation has not been reached; in Poland, it was not uncommon to hear slogans such as "Pure Poland, White Poland" or "Get out of the way with your refugees" at demonstrations against the former government. It is easy to see why the European Commission and Jean-Claude Juncker are starting to lose patience and want to launch proceedings against Poland, Hungary, Slovakia and the Czech Republic. A European Commission, however, without any real solutions, since openly criticising one of these countries could amplify an already well-established anti-European sentiment. No wonder, then, that the current Polish Defence Minister, Mariusz Blaszczak, publicly stated that "a European Union sanction is preferable to welcoming potentially terrorist Muslim migrants". Needless to say, no country in Europe obeys the canons that NGOs recommend.
It is this European Union, weakened by the lack of internal solidarity that more than one million people fleeing persecution and conflict in 2015 in 2015 – just 0.2% of the European population, proof that the effort is not so great. Since 2018, more than 9701 people have risked their lives to reach Europe by sea in 2018. 382 of them are reported to have drowned in 2018. Once in Europe, the situation is no more lenient: the procedures for obtaining asylum are long and do not happen very often. In 15 EUROPEAN Union countries, less than half of applications were accepted in the period January 2015-June 2016: 31% in Spain, 34% in Slovenia, 24% in Luxembourg, etc.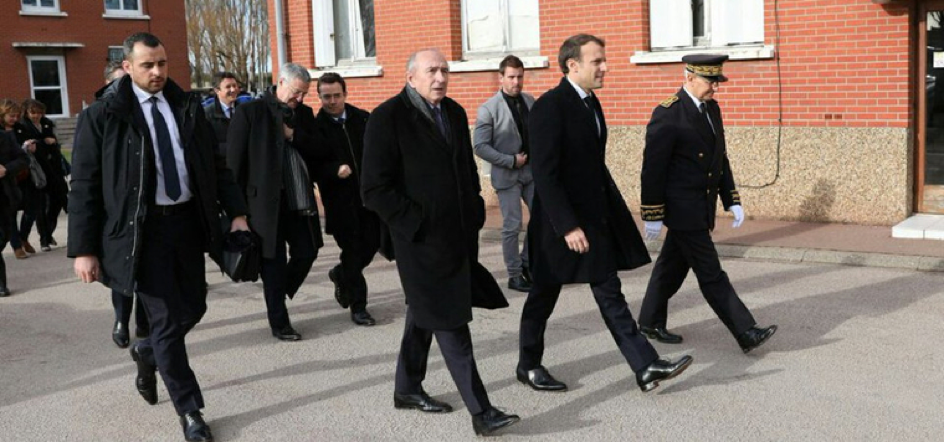 Emmanuel Macron and Gérard Collomb on a trip to Calais.
France: "Between humanism and firmness"
The NGOs were receptive, as evidenced by the compliments made by the president of the NGO Human Rights Watch, Kenneth Roth, on a set of France Culture. Emmanuel Macron was reassuring during his election campaign and the first months of his mandate: speeches in Calais indignant at abuses against migrants, indignation, too, at the situations in which some people are forced to return to Libya, etc. However, just a few days before Christmas, a circular had aroused a feeling of unease: the one addressed to the prefects by the Ministry of the Interior to authorize the deployment of mobile teams in emergency shelters, in order to assess the administrative situation of the foreigners present. A circular that takes up the broad outlines set by Emmanuel Macron during his campaign: better reception conditions for those who fall under the right of asylum but a stronger firmness for those who would be rejected. In this debate, which merely repeats the eternal opposition between humanism and realism, is it really surprising to see that a chill was thrown at those who had applauded, on the day of the General Assembly of the United Nations, the speech of a president of a France "ready to reconnect with his universalist message". Hadn't the red line already been crossed? Silence on forcing the coast guard to detain migrants in Libya, etc.
More recently, on Wednesday 21 February, to be precise, the Minister of the Interior, Gérard Collomb, presented his bill "for controlled immigration and an effective right of asylum" to the Council of Ministers. A controversial project that outlines certain measures desired by the former mayor of Lyon: reducing the period of time for asylum applications from 11 to 6 months, including appeals; reducing the time to apply for asylum after entering France from 120 to 90 days, increasing the period of detention in administrative detention centres from 45 to 90 days, etc. A bill that divides the President's partners, as evidenced by the statements of MoDem President François Bayrou – "Extending the detention period to 90 days means taking the risk of reinforcing the abuse and difficulties that these people in the detention centre may encounter, which will perceive it more as punishment than anything else."
So, is France really this good student "humanist" and "universalist"? Not sure if you believe the foreign press. As reported by the International Courier, the conservative Spanish newspaper ABC believes that "if he presents himself as energetic, severe and humanistic, Gérard Collomb actually seems very harsh against immigration and the right to asylum, both in terms of judicial and law enforcement, paving the way for selective immigration." Not sure, either, if we look more closely at the government's actions over the past few months. In addition to the Collomb circular or the Interior Minister's bill, France, in the wake of the European agency Frontex, has long accused lifeboats such as those of SOS Mediterranean of "playing the smugglers' game". It was in Paris that the French, Italian and German governments wanted to impose a "code of conduct" on the nine NGOs present in the Mediterranean Sea by denouncing their actions. Not sure, if we are more interested in the proposals of the French president. The latter foresees the opening of sorting centres, especially in Niger, using a rhetoric that is well known to him: sorting out the few "lucky elect" who can claim to apply for asylum in Europe and those who will be invited or forced to turn back. You should know that these "hotspots" already exist in Greece (the island of Lesbos) and Italy – since 2015. Studied by NGOs and researchers alike, the conditions under which refugees and economic migrants are subjected are considered inhumane: "prefabricated wires surrounded by barbed wire where European agencies officiate to register individuals, camps around, where people live whose lives are suspended, in unimaginable sanitary conditions, and where acts of violence against themselves and others multiply". France, which often wants to be moralizing, is not exactly the "good student" it wants to be: in a new way, it has restored the internal borders of the Schengen area for more than two years, not the six months provided by the Treaty. It is the only country in this case. France also did not welcome 30,000 people as required by the quota policy. The facts are far from the speeches, so…
What about Lyon?
While in France, the target of asylum seekers exceeded 100,000 in 2017 – 27% more than in 2016, only 43,000 applications were accepted – the 43,000 people who were granted refugee status were unrelated to the quota policy mentioned above. The situation is not particularly greener in provincial metropolises than in Paris. In Lyon, refugee camps and police interventions are multiplying. 149 people, including some 30 children, were reportedly evacuated from an illegal camp in Part-Dieu last August. Although the Rhône is not the department with the most refugees, several towns in the Lyon area have volunteered: Villeurbanne, Vaulx-en-Velin, Feyzin, Corbas, Bron and … Lyon.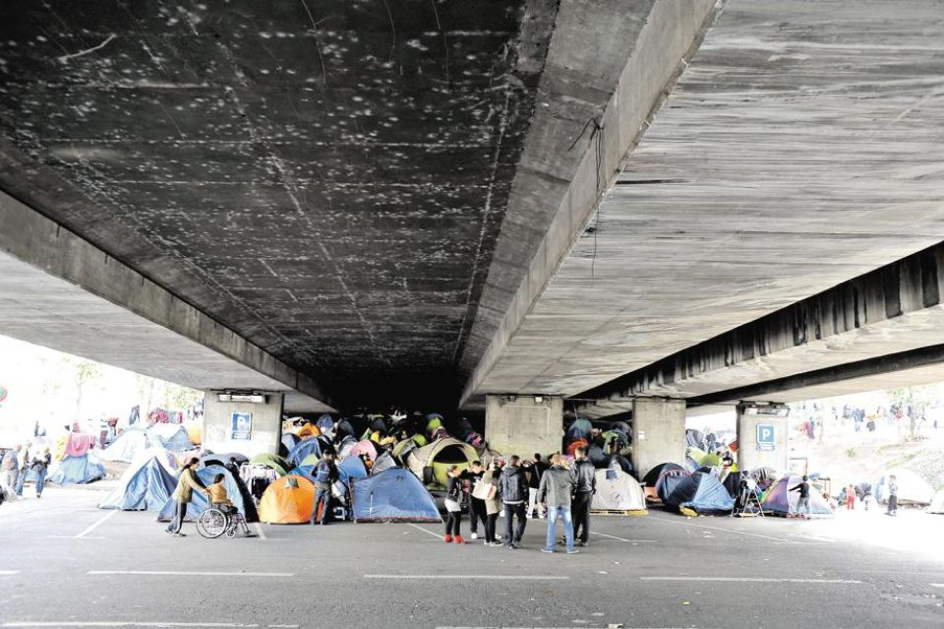 Asylum seekers living under a bridge on the A6 motorway in Lyon.
This article was written as part of the new "Refugees Lives Matter" (RLM) project developed by Solidari'Terre and which Diplo'Mates actively supports.
Divided into three axes, this new project consists of:
Allowing students, starting next year, to go on humanitarian missions abroad to help refugees;

Provide concrete assistance to refugees in Lyon through the establishment of a student/refugee sponsorship system;

To raise students' awareness of this topic through conferences organized in emlyon.
Article written by Clément Visbecq, Head of Journalism, Diplo'Mates 2018
Sources
Sources:
https://www.courrierinternational.com/article/vu-de-letranger-le-tour-de-vis-de-la-france-contre-le-droit-dasile?utm_campaign=Echobox&utm_medium=Social&utm_source=Twitter
https://www.20minutes.fr/lyon/2121767-20170825-lyon-environ-150-refugies-evacues-camp-illegal-part-dieu
http://www.rtl.fr/actu/debats-societe/loi-asile-et-immigration-ce-qu-il-faut-savoir-du-projet-de-collomb-7792349996
http://www.huffingtonpost.fr/2017/09/25/deux-ans-apres-quel-bilan-pour-les-quotas-de-migrants-dans-lue_a_23214522/
https://aoc.media/analyse/2018/02/20/maitriser-limmigration-petite-histoire-dune-hypocrisie-organisee/
https://www.franceculture.fr/emissions/lesprit-public/migrants-refugies-quelle-politique-la-geopolitique-selon-vladimir-poutine
https://asile.ch/statistiques/europe/
https://www.franceculture.fr/emissions/affaires-etrangeres/les-refugies
https://www.letemps.ch/monde/lunion-europeenne-perd-patience-pays-lest
Image sources:
http://www.liberation.fr/societe/2013/11/18/a-lyon-les-associations-de-refugies-sur-le-pont_947901
https://www.franceculture.fr/emissions/affaires-etrangeres/les-refugies
https://www.interieur.gouv.fr/Actualites/L-actu-du-Ministere/Deplacement-d-Emmanuel-Macron-et-de-Gerard-Collomb-a-Calais
http://www.unhcr.org/fr/news/stories/2016/12/5853f4aea/chef-hcr-felicite-niger-aide-refugies.html